Skip content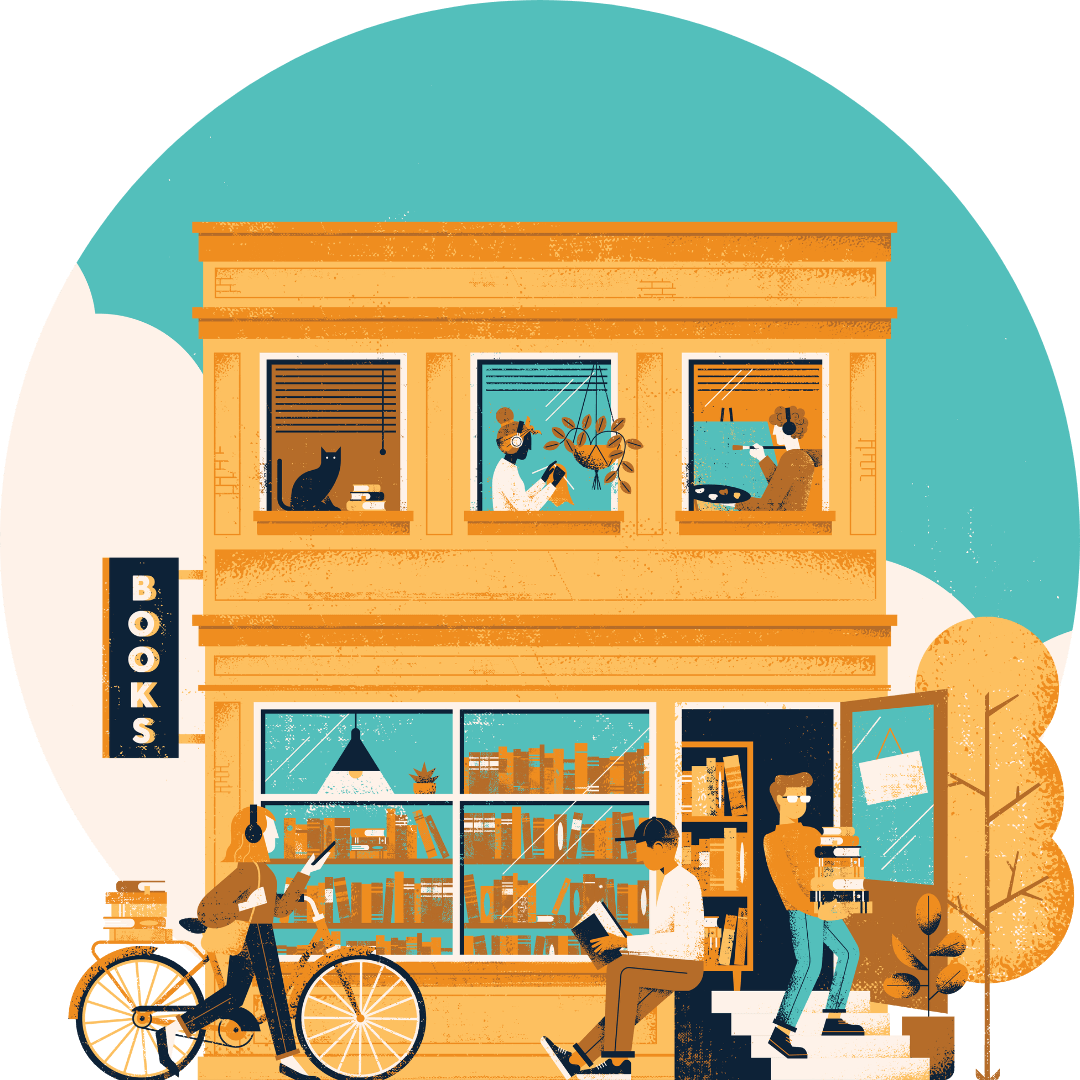 Gift audiobooks, support your bookstore!
With credit bundles, you choose the number of credits, your recipient picks their audiobooks, and your local bookstore is supported.
Start gifting
Happier at Home
Kiss More, Jump More, Abandon a Project, Read Samuel Johnson, and My Other Experiments in the Practice of Everyday Life
Length 8 hours 17 minutes
Language English
In the spirit of her blockbuster #1 New York Times bestseller The Happiness Project, Gretchen Rubin embarks on a new project to make home a happier place.
 
One Sunday afternoon, as she unloaded the dishwasher, Gretchen Rubin felt hit by a wave of homesickness. Homesick—why? She was standing right in her own kitchen. She felt homesick, she realized, with love for home itself. "Of all the elements of a happy life," she thought, "my home is the most important." In a flash, she decided to undertake a new happiness project, and this time, to focus on home.

And what did she want from her home? A place that calmed her, and energized her. A place that, by making her feel safe, would free her to take risks. Also, while Rubin wanted to be happier at home, she wanted to appreciate how much happiness was there already.
 
So, starting in September (the new January), Rubin dedicated a school year—September through May—to making her home a place of greater simplicity, comfort, and love. 
 
In The Happiness Project, she worked out general theories of happiness. Here she goes deeper on factors that matter for home, such as possessions, marriage, time, and parenthood. How can she control the cubicle in her pocket? How might she spotlight her family's treasured possessions? And it really was time to replace that dud toaster.
 
Each month, Rubin tackles a different theme as she experiments with concrete, manageable resolutions—and this time, she coaxes her family to try some resolutions, as well. 
 
With her signature blend of memoir, science, philosophy, and experimentation, Rubin's passion for her subject jumps off the page, and reading just a few chapters of this book will inspire readers to find more happiness in their own lives. 
Gretchen Rubin is one of the most thought-provoking and influential writers on the linked subjects of habits, happiness, and human nature. She's the author of many books, including the blockbuster New York Times bestsellers, Better Than Before and The Happiness Project. A member of Oprah's SuperSoul 100, Rubin has an enormous following, in print and online; her books have sold more than 2 million copies worldwide, in more than 35 languages; and on her popular daily blog, gretchenrubin.com, she reports on her adventures in pursuit of habits and happiness. She also has a highly ranked, award-winning podcast, Happier with Gretchen Rubin. Rubin started her career in law, and was clerking for Justice Sandra Day O'Connor when she realized she wanted to be a writer. She lives in New York City with her husband and two daughters.
Reviews
 
"With her characteristic mix of delightful charm, thoughtful research, and insightful advice, In Happier at Home Gretchen Rubin shows how to add fun,  joy, and harmony to your home life. As usual with Rubin's work, I couldn't put this book down."
--Susan Cain, New York Times bestselling author of QUIET: The Power of Introverts in a World That Can't Stop Talking


"Gretchen Rubin's inventive approach to creating a happier home life is as inspiring as it is informative. Happier At Home is a soulful and enlightening guide for happiness-seekers of all stripes."
--Cheryl Strayed, bestselling author of WILD


"In her brilliantly insightful book Happier at Home, Gretchen Rubin shows how small changes can make a big difference to our  everyday happiness. What better place to start than in our own homes?" -- Chris Guillebeau, author of The Art of Non-Conformity, and The $100 Startup: Reinvent the Way You Make a Living, Do What You Love, and Create a New Future


"From 'threshold rituals' to 'cultivating a shrine,' Happier at Home has brought more joy into my life. It's a rare book that inspires personal change and takes you on a rollicking adventure through history and into the minds of great thinkers. I'm grateful for Gretchen Rubin's work."
-- Brené Brown, Ph.D. Author of #1 New York Times bestselling book, Daring Greatly: How the Courage to be Vulnerable Transforms the Way we Live, Love, Parent, and Lead
 

"A happy home is the elusive ideal we all strive for--whether we  live in the city or suburbs, with children or parents, with partners, roommates, or on our own. In Happier at Home, Gretchen Rubin brilliantly shows us how to create an environment that embraces the people and the things that give us a sense of comfort, tranquility, and joy."
--Harlan Coben, bestselling author of Six Years and Stay Close 


"Self-help fans rejoice. A new book just came out that's just as good as Gretchen Rubin's The Happiness Project. It's her latest release called Happier at Home. . . Rubin's warm, doable and sweet tips seem small when you check them off one by one. But the advice, added together, is a big ball of happy. . . Every mom will find gems in this book."
–Parents.com


Praise for The Happiness Project

"Once you've read Gretchen Rubin's tale of a year spent searching for satisfaction, you'll want to start your own happiness project and get your friends and family to join you. This is the rare book that will make you both smile and think—often on the same page."
–Daniel H. Pink, bestselling author of Drive

"A friendly, approachable, and compulsively readable narrative that will not only make you want to start your own happiness project but will also make you want to invite Rubin out for a cup of coffee."
–San Diego Union-Tribune
 
"For those who generally loathe the self-help genre, Rubin's book is a breath of peppermint-scented air. Well-researched and sharply written."
–The Cleveland Plain Dealer
 
"The Happiness Project made me happier by just reading it."
–Bookpage
 
"An enlightening, laugh-aloud read…Filled with open, honest glimpses into [Rubin's] real life, woven together with constant doses of humor."
–Christian Science Monitor
 
"Whether you devote a day or a year, The Happiness Project can give you the tools to find lasting fulfillment."
–Psychology Today
 
"Gretchen's compelling voice, great stories, and first person-perspective…make the book simply irresistible."
–Bob Sutton, Stanford Professor and author of Weird Ideas That Work
 
"A cross between the Dalai Lama's The Art of Happiness and Elizabeth Gilbert's Eat, Pray, Love, seamlessly buttressed by insights from sources as diverse as psychological scientists, novelists, poets, and philosophers, Gretchen Rubin's book is one that readers will revisit again and again as they seek to fulfill their own dreams for happiness."
–Sonja Lyubomirsky, author of The How of Happiness

Expand reviews
Start gifting