Skip content
Libro.fm for Business
Libro.fm offers a range of solutions for businesses looking to deliver audiobooks related to business, personal growth, diversity training, personal enjoyment, and more.
Contact us
Get in touch with our Libro.fm for Business team for more information and to get started with a free trial.
Looking for staff gifts?
Thank your employees with audiobooks
Audiobook credit bundles are available worldwide and can be scheduled or sent immediately. You'll choose the number of credits, they'll get to choose their own audiobooks, and with 400,000+ to choose from, they're sure to find something they'll love.
Get started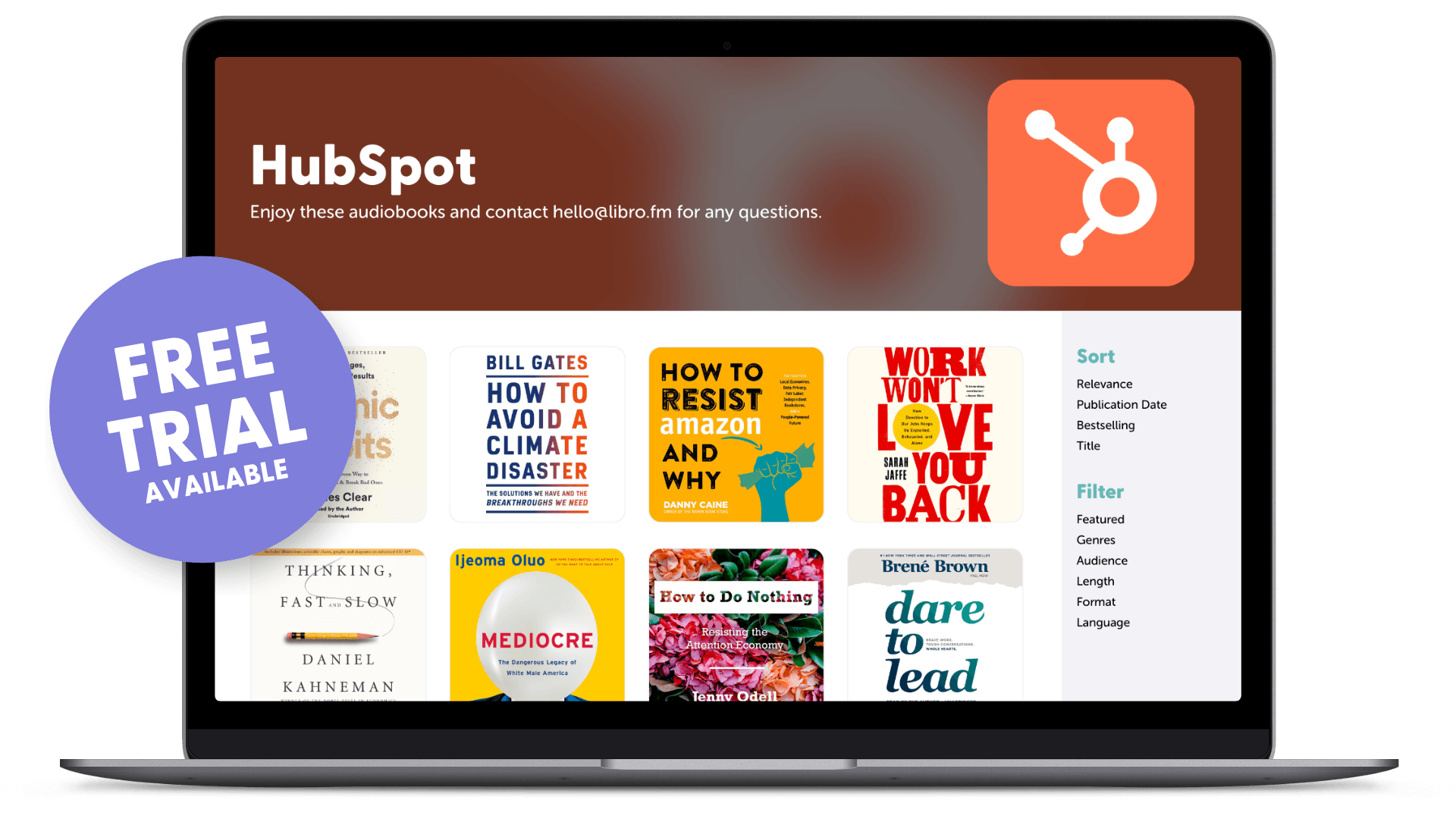 Libro.fm for Business hub
Offer your employees a curated hub of audiobooks specific to your organization. Your company and Libro.fm select the audiobooks, you set the download limits, and we take care of the rest.
Choose from our catalog of over 400,000 audiobooks from all major publishers
Seamlessly browse audiobooks and listen on the free Libro.fm app (iOS and Android)
Enjoy ongoing recommendations from Libro.fm staff, publishers, and expert booksellers
Share with your employees around the world
Experience priority customer support for you and your employees
Rely on our Customer Success team for reporting, ongoing curation, and optimization recommendations
Partner with a Social Purpose Corporation
Support local bookstores in your neighborhood(s)
Gift credits in bulk
Purchase credit bundles in bulk* for your employees, customers, or other groups. You purchase the credits and they can select from over 400,000 audiobooks. Bundles are provided as digital redemption links which can be shared worldwide.
Specific audiobooks in bulk
You select the title(s) and quantity* and we provide the link(s) to share with employees.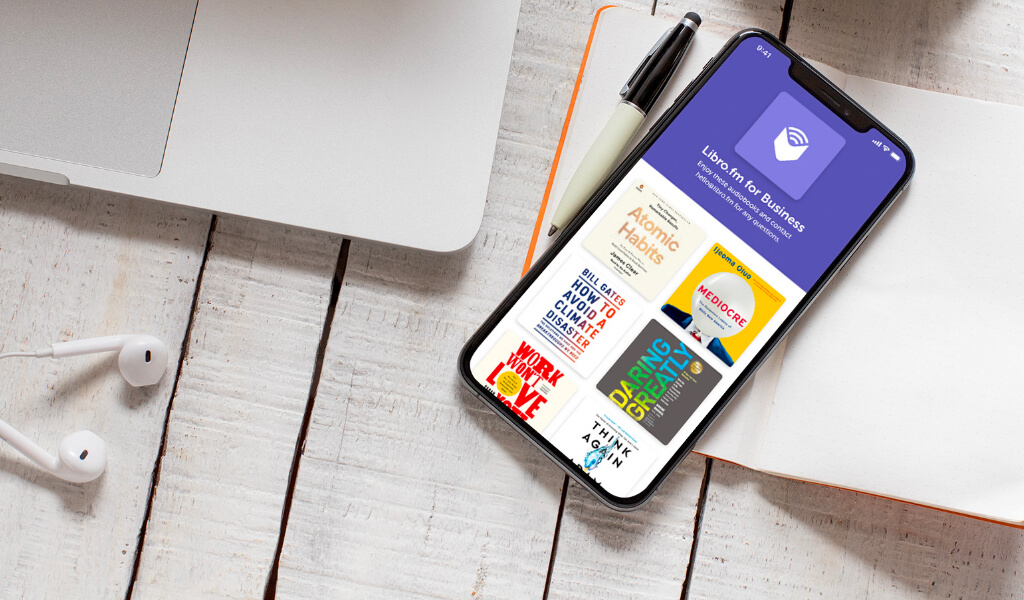 Audiobooks for Employees While Supporting bookstores
Libro.fm for Business allows companies to invest in professional and personal development while financially supporting a local bookstore.
Read the article
Audiobooks to Start a DEI Book Club at Work
A great way to kick-start intentional conversations around diversity, equity, and inclusion (DEI) in the workplace can be through a book club!
See the list
"As we move to virtual LinkedIn Speaker Series events, we are excited to still be able to provide employees with access to our inspiring guests' books, in audio version. And it's such a nice bonus that Libro.fm supports local bookstores. It was very easy to place an order and we appreciate that we just get one link that can be downloaded multiple times—it makes the fulfillment much smoother than if we were provided with hundreds of special codes. I look forward continuing to work with Libro.fm to support our LinkedIn Speaker Series!"

Rachelle Diamond, LinkedIn
"Partnering with Libro.fm has been a seamless customer experience. At HubSpot, we're passionate about helping our employees learn and grow, and Libro.fm has empowered us to give back to independent and Black-owned bookstores as part of that commitment. They've gone above and beyond to answer any questions to ensure our needs are met."

Tina Do & Olivia Reardon, HubSpot
"Microsoft Corporation hosts an external speaker series, Outside in, and often engages with authors on book tours. Given the current situation, events are now digital and Microsoft supplies employees with audiobooks from Libro.fm with the benefit of still supporting local, independently owned bookstores."

Annee Price, Microsoft
"At Mailchimp we do a lot of book giveaways with our employees. We started exploring Libro.fm to expand our offerings, since everyone likes to read or consume media differently. Then the pandemic hit and we all started working from home. Having a Libro.fm library allows us to stay engaged with our employees and enhance our virtual events. Plus, we love supporting our own customers, like Libro.fm and independent bookstores. Working with Libro.fm has been a joy, and I look forward to continuing our partnership."

Sam Vaughn, Mailchimp
"Choosing partners that align with our core values and commitment to supporting local small businesses is at the heart of everything we do at barre3. Libro.fm was the perfect fit when looking for a partner to provide audiobooks to our staff for ongoing learning and development. Their passion and support for independent and locally owned bookstores makes our hearts soar. It's a brilliant business model, and we are thrilled to be working with a like-minded company who champions entrepreneurs in their community, just as we do with our 150+ independently owned barre3 studio owners across the US, Canada, and the Philippines. This has been a match made in book loving heaven!"

Kristin Rios, barre3
We are a Social Purpose Corporation
As a Social Purpose Corporation and 100% employee-owned company, we pursue both social and financial goals in the for-profit context, even if those social goals may at times conflict with the corporation's financial interests. We release an annual report outlining our efforts and progress.
Start gifting