Skip content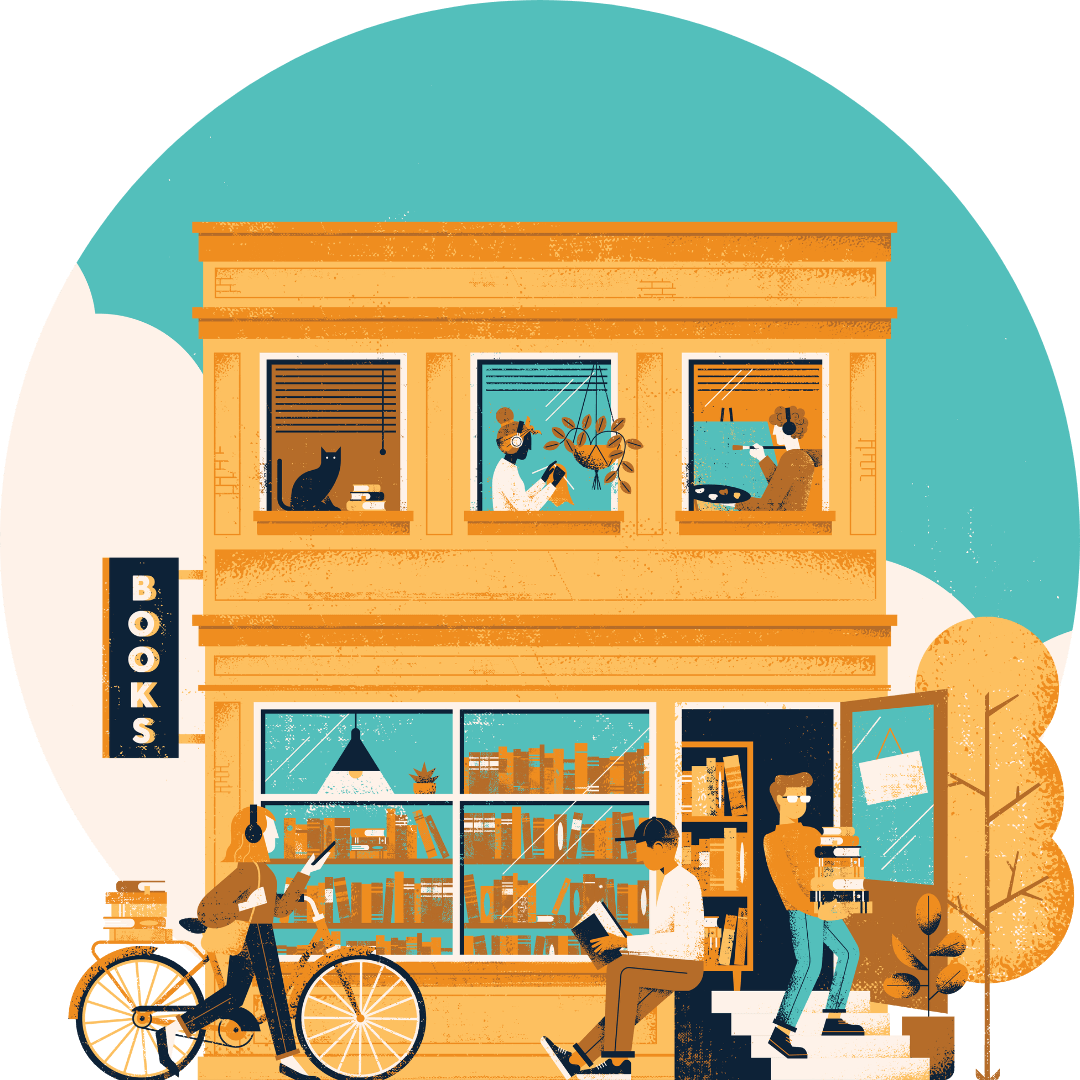 Gift audiobooks, support your bookstore!
With credit bundles, you choose the number of credits, your recipient picks their audiobooks, and your local bookstore is supported.
Start gifting
Moving On Doesn't Mean Letting Go
A Modern Guide to Navigating Loss
Length 9 hours
Language English
"A must-read book that will help your mind feel less heavy and open the door to deep personal growth" —Yung Pueblo, #1 New York Times bestselling author of Lighter and Clarity & Connection

Licensed grief and trauma therapist Gina Moffa illuminates a non-linear path through grief, with tools and practices to grieve at your own pace and use loss as a catalyst for a more connected, meaningful life.   Perfect for readers of Grief Day by Day and It's OK That You're Not OK, this "incredibly unique" (Mary-Frances O'Connor),  "smart, modern, and heartfelt guide" (Dr. Galit Atlas) is a  "lifeline to the exhausted treading water in an ocean of loss" (Rabbi Steve Leder).  

Grief hurts. Whether it's the death of someone you love, the end of a friendship, a breakup, or an ambiguous loss, grief visits each of us in time. But even though it's one of our most universal human journeys, grieving isn't something most of us know how to do.

In Moving on Doesn't Mean Letting Go, Gina Moffa takes an honest look at how grief affects our lives, offering a heartfelt, practical map through the dark terrain of loss—one that aims to shift the pain of your grief even when things feel unpredictable and overwhelming.

Grounded in nearly two decades of clinical experience and her own journey as a grief therapist in the throes of grief after losing her mother to cancer, Gina honors the individual momentum of each person's process while guiding readers to:


Navigate the initial shock of the "griefall"


Process all forms of loss—from loved ones to pets, miscarriage, divorce, and more


Get in touch with their needs, feelings, and boundaries


Recognize their unique grief rhythm


Connect mind and body through somatic exercises and self-reflections


Gina gives readers permission to grieve authentically—with none of the toxic positivity that bypasses the possibility of true healing and transformation—because you don't have to choose between falling apart or staying strong. You can learn to be empowered by the very thing you imagined would swallow you whole. 
Gina Moffa, LCSW, MA, is a licensed psychotherapist, mental health educator, and media consultant in New York City. In practice for nearly two decades, she has helped thousands of people seeking treatment for trauma, grief, as well as challenging life experiences and transitions. This includes work with Holocaust survivors at 92Y, as well as being a clinical director for a Mt. Sinai Hospital Outpatient Program specializing in addictions. She received her master's degree in social work with a specialty in trauma from New York University.
Reviews
"This book is a lifeline to the exhausted treading water in an ocean of loss. Much like its author it is smart, kind, honest and without judgement. Anyone living with loss will find expert guidance and hope here." —
Steve Leder, New York Times bestselling author of For You When I am Gone, and The Beauty of What Remains
"
Moving On Doesn't Mean Letting Go 
provides us all with a smart, modern and heartfelt guide to the painful and often confusing process of grief. Gina Moffa so beautifully shows us the roads to moving forward and turning our helplessness into agency."—
Dr. Galit Atlas, internationally-recognized psychoanalyst and author of Emotional Inheritance: A Therapist, Her Patients and the Legacy of Trauma
"Every few years there is a book that makes me stop, pause, and breathe deeper into my body. Gina's words feel like your favorite sweater with family and friends on a cool fall day. I feel more equipped as a parent, brother, son, and partner to support those around me in their grief, and I feel ten times more confident about my capacity to hold and make space for grief. When I experience grief and pain in my life, I will turn to
Moving On Doesn't Mean Letting Go 
repeatedly."—
Sylvester McNutt III, bestselling author of Care Package: A Path To Deep Healing
"We can feel vulnerable and scared to grieve, but it is something that we will all experience.
Moving On Doesn't Mean Letting Go
 is the book we need to know that we don't have to navigate through grief alone."—
Tiffany A. Yu, Founder and CEO of Diversability, disability right's activist
"Infused with clinical and personal insight and wisdom, Gina offers us a tender invitation to enter the portal of grief with compassion and self-awareness. This book gives a sense of being seen and cared for every step of the way as one navigates one of the hardest things we, as humans, endure: loss. This will be one of the grief classics!"—
Jessica Baum, LMHC, author of Anxiously Attached
"
Moving On Doesn't Mean Letting Go
 gets to the heart of the grief experience for our modern day. I can't recommend this book enough to anyone who needs guidance, support, care, and understanding on this painful journey, as well as the ones who will love them through it."—
Karen Chinca, LICSW-CEDS-2, Diplomate, Academy of Cognitive Therapy
"In 
Moving On Doesn't Mean Letting Go
, Gina Moffa shows up as an expert guide and trustworthy companion—someone with whom you can find safety sharing their darkest moments and most aspirational goals. Navigating the aftermath of loss can feel like an impossible journey, but equipped with the compassionate tools Moffa offers in this book, you needn't be afraid of moving forward. This is a book I will continue to recommend to grievers and the people who love them." —
Rebekah Borucki, author of You Have Four Minutes to Change Your Life
"Gina Moffa has written a must-read book that can help heal the heart from grief. A guide to overcoming the inevitable moments of loss that we all face, 
Moving on Doesn't Mean Letting Go 
will help your mind feel less heavy, and it will open the door to deep personal growth"—
Yung Pueblo, #1 New York Times bestselling author of Lighter and Clarity & Connection
"Reading this book, I felt like Gina Moffa was right there with me in the room, gently helping me to understand grief. Her years of experience as a therapist are offered as a gift, along with her own story of loss. Both her knowledge and wisdom about the physical impact of grief and the relationship between grief and trauma make this book incredibly unique." —
Mary-Frances O'Connor, author of The Grieving Brain
"If you don't have a therapist on speed dial—or even if you do—Gina Moffa's
Moving On Doesn't Mean Letting Go
will walk with you through the disorienting and devastating experience that is grief. Moffa shares important information on the mind-body connection as it relates to the grief experience, helping us understand how important it is to listen to what our bodies are trying to tell us. Not to be missed!"—
Jenny Lisk, author of Future Widow and host of the Widowed Parent Podcast
"With the keen clinical insights of a veteran trauma therapist and the embodied wisdom of a grieving daughter, Gina Moffa offers us a book that feels like a hand reaching out in the dark.  This book is a gift to all grievers and those who are hoping to become better supporters."—
Meghan Riordan Jarvis, MA, LCSW, clinical psychotherapist, host of the "Grief is My Side Hustle" podcast
"Extraordinary. Gina Moffa expertly breaks down what it actually means to hold self-compassion as we grieve, turning the abstract and often-dismissed concept of self-care into clear and practical patterns of behavior and thought that will allow mourners to feel safe and in touch with their ever-changing emotional needs. Reading her book is like having a wise friend by your side, whispering guidance and encouragement to us in the darkest of times."—
Colin Campbell, writer, director for theatre and film, author of Finding the Words: Working Through Profound Loss with Hope and Purpose
"Gina Moffa helps us gaze through the kaleidoscope of loss and hurt and make sense of what we're seeing. Honest and gentle, knowledgeable and experienced, raw and pure,
Moving On Doesn't Mean Letting Go
is about loss, but it is equally about how to live."—
Eveline Helmink, author of The Handbook for Bad Days
"
Moving On Doesn't Mean Letting Go 
is a balm for the soul. With wisdom, empathy, and practical advice, Gina helps us to navigate the complex and often overwhelming experiences that arise in the aftermath of loss to find healing in the midst of our sorrow."—
Kris Carr, New York Times bestselling author and wellness advocate
"We are all grieving something, and Gina Moffa's writing offers the comfort of a best friend and the support of a trusted therapist as we navigate our losses—big and small. What a beautiful gift this book is for anybody who knows that life will never be the same, but hopes that it will always be worth living."—
Ruby Warrington, author of Sober Curious and Women Without Kids
"This book is a big fat hug for anyone navigating the waves of grief."—
Meaghan B. Murphy, author of Your Fully Charged Life & Editor in Chief of Woman's Day
"Gina Moffa is the psychotherapist we all need. This immensely helpful book is like having a session with the wisest of practitioners who tells you that you're not alone in your anxiety or fear, and that's there's hope for you yet, because she's been there too, and knows.
Moving On Doesn't Mean Letting Go
is for anyone who has been touched by loss—and by that, I mean
everyone
."—
Laurel Braitman, New York Times bestselling author of Animal Madness and What Looks Like Bravery
Expand reviews
Start gifting