Skip content
Give credit bundles this holiday season and get a free audiobook!
Shop now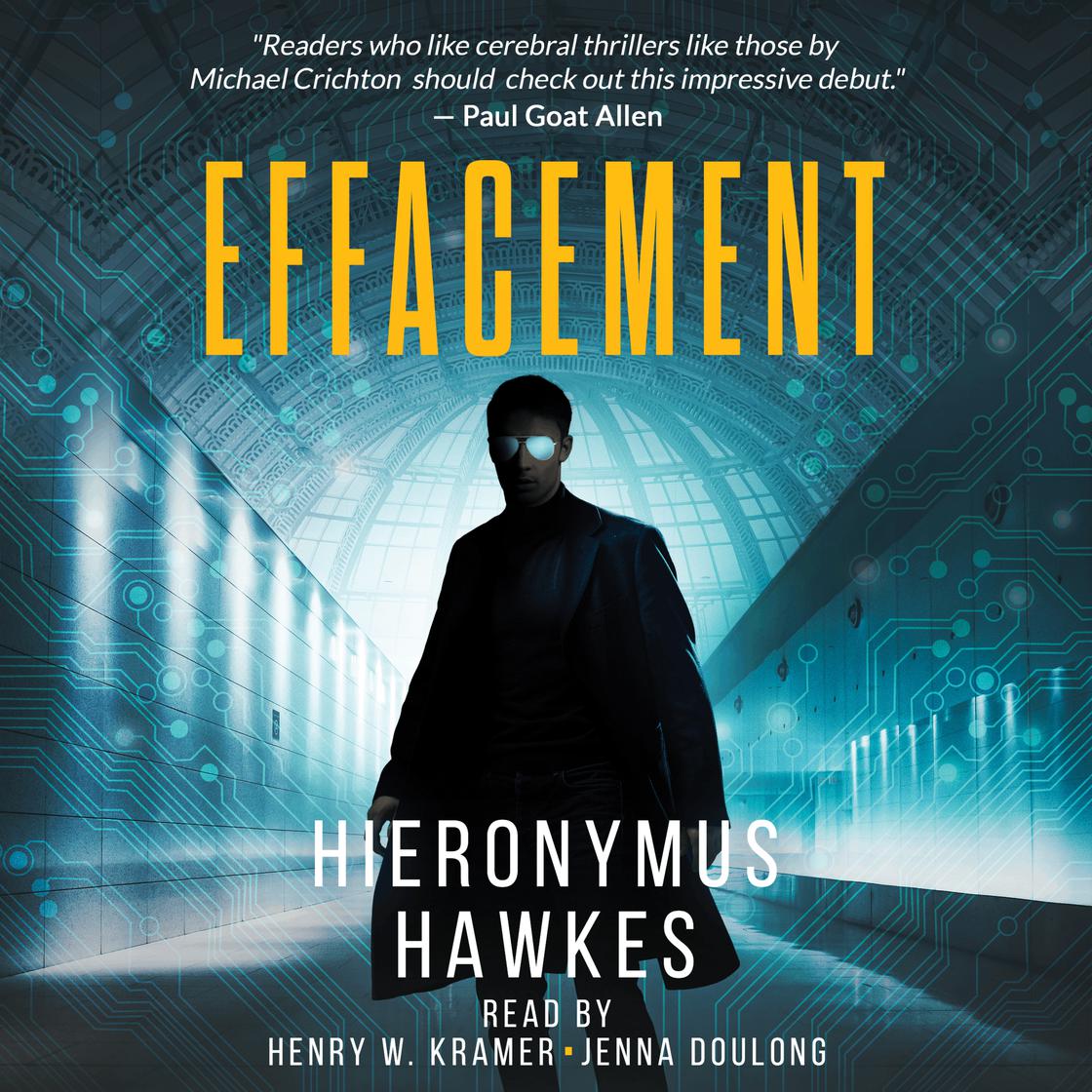 The perfect gift:
Audiobook credit bundles
You pick the number of credits, your recipient picks the audiobooks, and your local bookstore is supported by your purchase. Plus, you'll get a FREE seasonal audiobook with your credit bundle purchase!
Start gifting
Effacement
Length 11 hours 42 minutes
Language English
Summary
OVER FIVE HUNDRED 5 STAR RATINGS ON GOODREADS!
"This book demands our attention and posits the arrival of a genuinely gifted author. Very highly recommended."
"Brilliantly plotted and skillfully written, Effacement by Hieronymus Hawkes is a great book that will fill you with unease."
"Couldn't put it down! Loved the character development. Found myself with a secret crush on one of the characters."
"The story was great, kept me turning the pages to find out what happened next."
 "Brilliant! The writer had me hooked immediately."
A future where offline privacy is illegal. A lethal plot permanently deleting people in power. One determined genius caught in an assassin's sights.
 2037. Dr. Cole Westbay is proud of having helped eliminate crime. Groomed to take over the company that makes the surveillance chip everyone is required by law to have, he's alarmed by a series of suspicious deaths the hardware caused. And after launching an investigation, the brilliant scientist panics when he awakes with his mandatory neural link ripped out and his recently recorded memories erased…
 Arrested for the federal crime of failing to have his life fully documented, Cole struggles to get back online and clear his name. And as his paranoia grows while the bodies continue to pile up, he fears government enforcers, friends, and even his fiancée may be in on the scheme to set him up for a deadly fall. 
 Can the embattled scientist crack the conspiracy before his enemies hit CTRL+ALT+DEL on his life?
 Effacement is a gripping standalone science fiction technothriller. If you like gifted but flawed heroes, deep-state intrigue, and relentless villains, then you'll love Hieronymus Hawkes's dystopian vision.
 Buy Effacement for a hard reboot today!