Gift any 3, 6, or 12 month audiobook membership and get
Circe
for Free!
Learn More
The Gilded Wolves
A Novel
Bookseller Recommendation
"This is one of the coolest YA fantasy books I have ever read. The characters are imperfectly perfect, the magic system is incredible and the story is one that will keep you on your toes until the very end. I had so much fun reading this and I cannot wait for book two!"

Colleen, An Unlikely Story
*AN INSTANT NEW YORK TIMES BEST SELLER*
"[P. J. Ochlan and Laurie Catherine Winkel] animate a large cast of well-rounded characters, a complicated plot, and rich descriptions...Their strong characterizations as well as their use of accents and judicious timing suggest an exciting new series ahead." — AudioFile Magazine

This program includes a bonus interview with the author.
From New York Times bestselling author Roshani Chokshi comes an audiobook set in Paris during a time of extraordinary change--one that is full of mystery, decadence, and dangerous desires...
It's 1889. The city is on the cusp of industry and power, and the Exposition Universelle has breathed new life into the streets and dredged up ancient secrets. Here, no one keeps tabs on dark truths better than treasure-hunter and wealthy hotelier Séverin Montagnet-Alarie. When the elite, ever-powerful Order of Babel coerces him to help them on a mission, Séverin is offered a treasure that he never imagined: his true inheritance.
To hunt down the ancient artifact the Order seeks, Séverin calls upon a band of unlikely experts: An engineer with a debt to pay. A historian banished from his home. A dancer with a sinister past. And a brother in arms if not blood.
Together, they will join Séverin as he explores the dark, glittering heart of Paris. What they find might change the course of history--but only if they can stay alive.
Praise for The Gilded Wolves:
"Leigh Bardugo's Six of Crows and Dan Brown's The Da Vinci Code converge in this dazzling new fantasy… An opulent heist adventure that will leave readers voracious for more." -- Kirkus, starred review
---
---
The Gilded Wolves Series
Bookseller
Recommended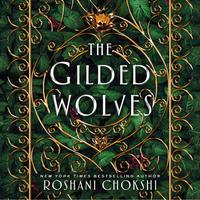 By: Roshani Chokshi
Length: 11 hours 55 minutes
Abridged: No
*AN INSTANT NEW YORK TIMES BEST SELLER*
"[P. J. Ochlan and Laurie Catherine Winkel] animate a large cast of well-rounded characters, a complicated plot, and rich descriptions...Their strong characterizations as well as their use of accents and judicious timing suggest an exciting new series ahead." — AudioFile Magazine

This program includes a... Read More »
Coming
Soon
"Chokshi's lavish sequel to The Gilded Wolves (2019) is as stunning as its predecessor. From ice castles, to tragic goddesses, to worldwide hunts, Chokshi takes readers on a whirlwind adventure that will steal their breath." -- Booklist, starred review

Returning to the dark and glamorous world of her New York Times instant bestseller, The Gilded... Read More »