Skip content
Bookseller pick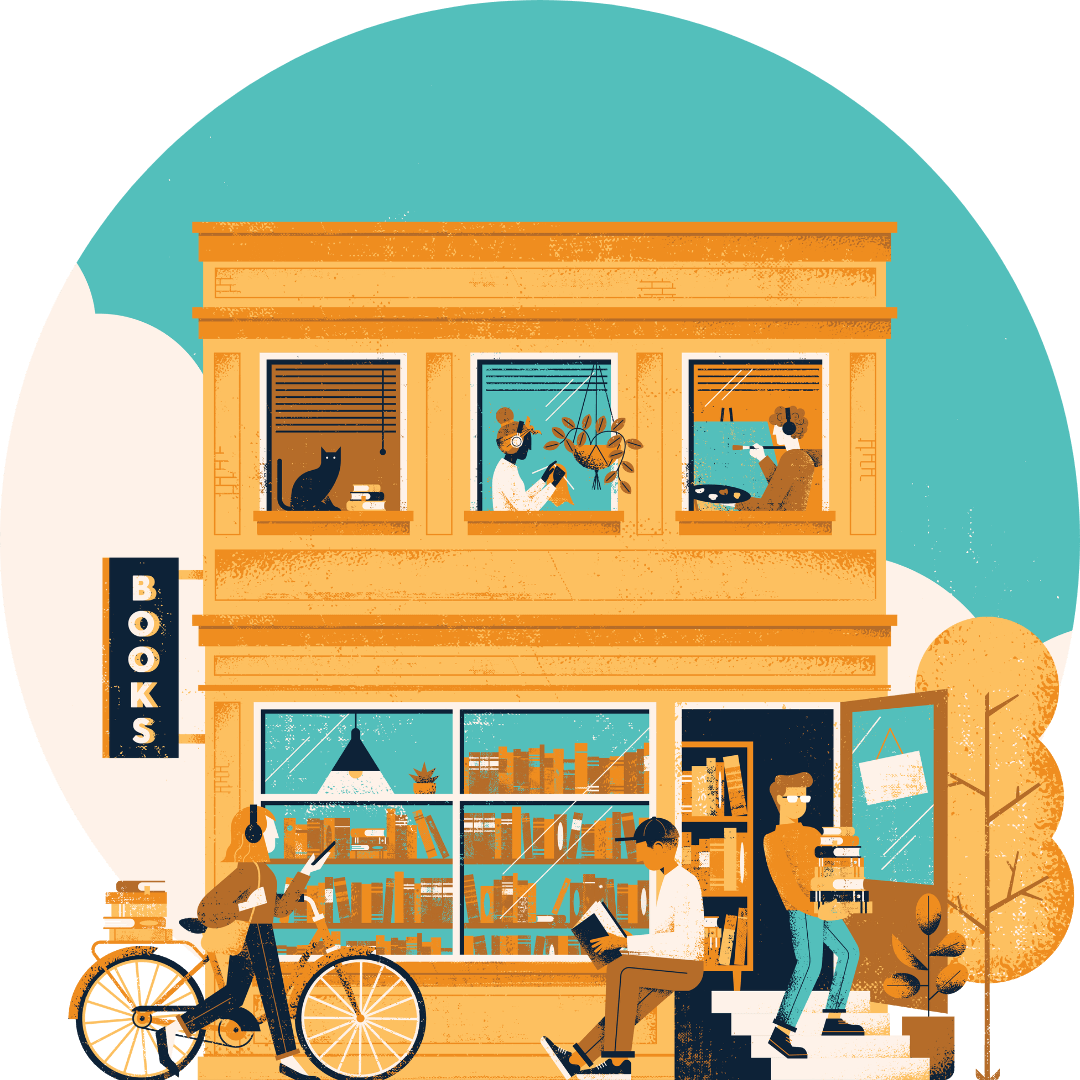 Gift audiobooks, support your bookstore!
With credit bundles, you choose the number of credits, your recipient picks their audiobooks, and your local bookstore is supported.
Start gifting
After the Funeral and Other Stories
Length 6 hours 31 minutes
Language English
Bookseller recommendation

"Hadley's writing is like being at a dinner party and telling the most interesting story from your life that you share with strangers. If you like reading short stories that are glimpses into character development, you'll love this book. (Reading this helped me solidified that I am not one of these people). Filled with grief, loss, and longing. Each story touched on some of the saddest and heartbreaking moments of the characters lives. "

— Jenny

•

E. Shaver, bookseller
ONE OF TIME'S 100 MUST-READ BOOKS OF THE YEAR • A masterful collection of stories that plumb the depths of everyday life to reveal the shifting tides and hidden undercurrents of ordinary relationships — Tessa Hadley is "one of the greatest stylists alive" (Ron Charles, Washington Post).

"Like Alice Munro, to whom she has more than once been compared, Hadley . . . sees us all: our travails, our fantasies and our small joys."—Claire Messud, New York Times best-selling author of The Burning Girl

"Hadley is pure magic and After the Funeral is a triumph."—Lily King, New York Times best-selling author of Writers & Lovers and Euphoria

In each of these twelve stories, small events have huge consequences. Heloise's father died in a car crash when she was a little girl; at a dinner party in her forties, she meets someone connected to that long-ago tragedy. Two estranged sisters cross paths at a posh hotel and pretend not to recognize each other. Janie's bohemian mother plans to marry a man close to Janie's own age—everything changes when an accident interrupts the wedding party. A daughter caring for her elderly mother during the pandemic becomes obsessed with the woman next door; in the wake of his best friend's death, a man must reassess his affair with the friend's wife. Cecilia, a teenager, wakes one morning in Florence on vacation with her parents and sees them for the first time through disenchanted eyes.

As psychologically astute as they are emotionally rich, these stories illuminate the enduring conflicts between responsibility and freedom, power and desire, convention and subversion, reality and dreams. A vital addition to Tessa Hadley's celebrated body of work, After the Funeral and Other Stories showcases what Colm Tóibín describes as "Tessa Hadley's extraordinary skill at making both surface life and deep interiors come fully alive."
Reviews
"Another showcase for Hadley's virtuosity . . .
After the Funeral
is a revelation for aficionados of the form, as vibrant and knowing as the best of Hadley's celebrated career."

—Hamilton Cain, Washington Post


"One of my favorite British novelists, Tessa Hadley, has just published a collection of short stories called
After the Funeral.
These pieces catch family members in ordinary moments, but the real action always takes place far beneath the surface with observations that Hadley draws with exquisite skill."
—Ron Charles, CBS Sunday Morning "Book Report"
"To call it excellent would be true but uninteresting, given her nearly unerring track record. More worthwhile is to use the collection to investigate just how this superb writer's fiction works . . . Then there's the signature Hadley maneuver: the abrupt point-of-view shift to reveal events from a different angle, best illustrated here in 'Cecilia Awakened' . . . The story ends, like so many of Ms. Hadley's, with a moment of intense insight and recognition."

—Sam Sacks, Wall Street Journal


"Hadley brings her eloquent prose and her psychological acuity to the relationships—between siblings, friends, lovers, parents, and children—that shape us and change us, that call into question our view of ourselves and our place in the world."
—The New Yorker
"A consummate storyteller, equally at home writing novels and short stories, Tessa Hadley possesses a brilliance that is hard to overstate. It's a pleasure to welcome
After the Funeral
, her twelfth book in just over twenty years, which is exactly as one hoped it would be: impeccably literary, emotionally satisfying, yet unexpectedly unsettling . . . Harkening to a range of contemporaries (Henry James, Muriel Spark, and Elizabeth Bowen as well as Zadie Smith and Alice Munro), Hadley always delivers fiction that cuts to the quick."

—Lauren LeBlanc, Boston Globe


"Hadley examines an array of families—and the ruptures in their unassuming lives—with precision, subtlety and care."

—People
"The work of a singular talent . . . These are captivating stories, rich in character and fine-grained detail . . . Hadley entertains while offering shrewd, subtle insights into how we tick and the ties that bind us."

—Malcolm Forbes, Minneapolis Star Tribune

"Mirroring the experience of a short summer swim, the stories in Tessa Hadley's new collection
After the Funeral
consistently pull you in from the first sentence, immerse you agreeably and effortlessly, and then set you, sometimes a bit abruptly, down on the bank. This uncanny ability to involve total strangers instantaneously in the business of other total strangers may be the gift that most distinguishes a born writer. The capacity to make readers care from the off about what happens to these imaginary people next is an unquantifiable, indefinable talent that cannot be taught. You've got it or you haven't. Hadley's got it."
—Lionel Shriver, Financial Times (London)


"
After the Funeral
is a brilliant collection. From the virtuosity of Hadley's technique to the clarity of her moral vision and the warmth of her humor, what she has achieved in
After the Funeral
is nothing short of masterful. Her stories are surprising, profound, and each feels as full as a world."

—Brandon Taylor, author of The Late Americans
"Hadley is pure magic and
After the Funeral
is a triumph."

—Lily King, New York Times best-selling author of Writers & Lovers and Euphoria

"The mastery she has honed over a decades-long career makes Hadley's gaze as sharp as her empathy is expansive; each tale feels as satisfying as a full-length novel."
—Kirkus Reviews (starred)


"Hadley proves herself a magician of short fiction with this wonderful collection featuring characters whose epiphanies shift their conception of their lives . . . Readers will marvel over these twisty and masterly tales."
—Publishers Weekly (starred)


"Ghosts of the short story masters—Alice Munro, William Trevor, Katherine Mansfield among them—haunt the wonderful new collection . . . The quality of suspense and satisfaction in Hadley's stories—quiet, patient, exquisitely wrought—is miraculous."
—Vogue, Best Books of 2023 (So Far)

"One of the greatest novelists and short-story writers at work today . . . Richly detailed and economically presented . . . Nothing is spelled out, but when it comes, understanding is as clear and cold as an icicle. Abigail Thaw delivers the stories beautifully, her manner and intonation picking up each character's personality — snobbish, arrogant, beset upon or naive. Most impressive, she gets across the stories' many ironies with an evenness of tone that makes them all the more devastating."

—Katherine A. Powers, Washington Post (audiobook review)


"Each story reads like a novel . . . This is deft storytelling from a master of her craft."
—Brad Thor on The TODAY Show
"These extraordinarily well-crafted short stories reveal the profound interior lives of the characters. Tessa Hadley's gift for immersing readers into fully drawn surroundings is captivating."
—
Christian Science Monitor
"Hadley writes the kind of books that many people think are easy to write—we're overrun with domestic novels about relationships, family, tragedy, life complications, the kind of events and dynamics that everyone has experience with. But Hadley, unlike most people, has the ability to evoke the depth and complexity that life truly holds."
—Lit Hub


"Her unpicking of character is focused, intense and yet always, somehow, in parallel, kind. What it does best is produce in the reader exactly what she offers her characters, for a sickening moment or two, in each story: a vast, difficult, unruly elation. For this to work, they need to arrive in front of us with comprehensive histories . . . [What's revealed before the story ends] will make a small but significant adjustment in the reader's view of the world. In a 2007 review of Hadley's first collection, Anne Enright described her as "immensely subversive" – a judgment that has only gathered force since."

—The Guardian (London)

"Hadley, in
After the Funeral
, is at home with the short story because she is a master of non-elaboration. She leaves it to her readers to fill in the gaps, make judgments on the quiet. The pleasure is not unlike reading Jane Austen: we have the inside track on what is being said – we know more about her characters than they know about themselves. She pulls off the feat of being leisurely yet economical – there is no slack. As one of our finest novelists, she has, throughout her writing life, been a short story supremo . . . It is hard to imagine stories more skillfully paced and polished than these."

—The Observer (London)
"[Hadley has] made a compelling career from her close observation of the frictive disconnections that roil beneath the surface of what looks polite and well-behaved . . . The strongest stories resonate, offering glimpses of the hidden selves we all conceal."
—The Sunday Times (London)


"Magnificent . . . Hadley's latest short-story collection, fantastically inventive and finely wrought, reminds us that she is one of our greatest psychological writers . . . Hadley is more interested in the backwash of big events than in the events themselves . . . You don't need big events when your characters' inner lives are this credible . . . Hadley's book needn't worry about the big events; it is one itself."
—Daily Telegraph (London)

"A reminder of just how sublime an experience reading a Tessa Hadley novel is."
—The i (London)
"[Hadley] forensically lays bare people's foibles and frailties, but always with empathy."
—Red Magazine (United Kingdom)
"Good short stories are complete and satisfying in themselves while leaving open the possibility of a continuing storyline; Hadley's stories do both very well."
—Library Journal
"Her meticulously observed, extraordinarily perceptive stories are as satisfying as Alice Munro's. Yes, Hadley is that good . . . Unlike many short story writers, who serve up slices of life cut so thin you're left craving more, Hadley offers both rich complexity and satisfying closure."
—Heller McAlpin, NPR, on Bad Dreams and Other Stories
"It's to her credit that Hadley manages to be old-fashioned and modernist and brilliantly postmodern all at once . . . We've seen this before, and we've never seen this before, and it's spectacular."
—Rebecca Makkai, New York Times Book Review, on
Late in the Day
"I find Tessa Hadley's work genuinely helpful, especially when it comes to the big subjects: love and marriage, the political versus the personal, children, friendship. And then there are the sentences themselves, so precise and beautiful, often sly, sometimes devastating, always expertly paced. Few writers give me such consistent pleasure."
—Zadie Smith
"With each new book by Tessa Hadley, I grow more convinced that she's one of the greatest stylists alive . . . To read Hadley's fiction is to grow self-conscious in the best way: to recognize with astonishment the emotions playing behind our own expressions, to hear articulated our own inchoate anxieties."
—
Ron Charles,
Washington Post
"Every book Tessa Hadley writes makes her readers look forward keenly to the next."
—Hilary Mantel
"She has such great psychological insights into human beings, which is rare. She is one of the best fiction writers writing today."
—Chimamanda Ngozi Adichie
"Like Alice Munro, to whom she has more than once been compared, Hadley . . . sees us all: our travails, our fantasies and our small joys."
—Claire Messud, New York Times best-selling author of The Burning Girl
Expand reviews
Start gifting