Skip content
Dead Wake
The Last Crossing of the Lusitania
From the bestselling author and master of narrative nonfiction comes the enthralling story of the sinking of the Lusitania.
---
Description
On May 1, 1915, with WWI entering its tenth month, a luxury ocean liner as richly appointed as an English country house sailed out of New York, bound for Liverpool, carrying a record number of children and infants. The passengers were surprisingly at ease, even though Germany had declared the seas around Britain to be a war zone. For months, German U-boats had brought terror to the North Atlantic. But the Lusitania was one of the era's great transatlantic "Greyhounds"—the fastest liner then in service—and her captain, William Thomas Turner, placed tremendous faith in the gentlemanly strictures of warfare that for a century had kept civilian ships safe from attack.
Germany, however, was determined to change the rules of the game, and Walther Schwieger, the captain of Unterseeboot-20, was happy to oblige. Meanwhile, an ultra-secret British intelligence unit tracked Schwieger's U-boat, but told no one. As U-20 and the Lusitania made their way toward Liverpool, an array of forces both grand and achingly small—hubris, a chance fog, a closely guarded secret, and more—all converged to produce one of the great disasters of history.
It is a story that many of us think we know but don't, and Erik Larson tells it thrillingly, switching between hunter and hunted while painting a larger portrait of America at the height of the Progressive Era. Full of glamour and suspense, Dead Wake brings to life a cast of evocative characters, from famed Boston bookseller Charles Lauriat to pioneering female architect Theodate Pope to President Woodrow Wilson, a man lost to grief, dreading the widening war but also captivated by the prospect of new love.
Gripping and important, Dead Wake captures the sheer drama and emotional power of a disaster whose intimate details and true meaning have long been obscured by history.
---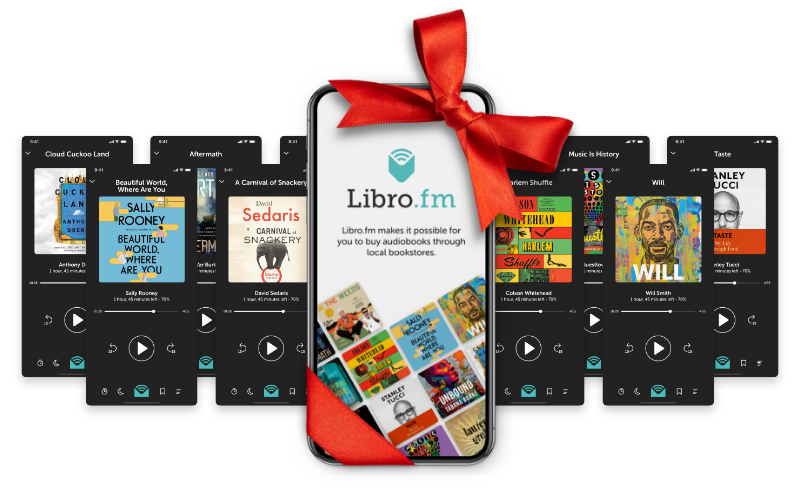 Shop early and gift big!
Gift an audiobook membership to anyone in the world and support local bookstores at the same time.
Start gifting
Testimonials
---
"Larson is one of the modern masters of popular narrative nonfiction . . . a resourceful reporter and a subtle stylist who understands the tricky art of Edward Scissorhands-ing narrative strands into a pleasing story. . . . An entertaining book about a great subject, and it will do much to make this seismic event resonate for new generations of readers."

Hampton Sides, New York Times Book Review
"Larson is a journalist who writes non-fiction books that read like novels, real page-turners. This one is no exception. I had known a lot about the Titanic but little about the Lusitania. This filled in those gaps . . . this one is pretty damned good. Thoroughly engrossing."

George R.R. Martin, author of Game of Thrones
Quotes
---
About the author
---
Erik Larson is the author of five New York Times bestsellers, most recently Dead Wake: The Last Crossing of the Lusitania, which hit #1 on the Times list soon after launch. Erik's book The Devil in the White City stayed on the Times' hardcover and paperback lists for a combined total of over five years. It won an Edgar Award for nonfiction crime writing and was a finalist for a National Book Award. His other books include In the Garden of the Beasts: Love, Terror, and an American Family in Hitler's Berlin, Isaac's Storm: A Man, a Time, and the Deadliest Hurricane in History, and Thunderstruck. Erik graduated summa cum laude from the University of Pennsylvania, where he studied Russian history, language and culture. He received a masters in Journalism from Columbia University.
Larson currently lives in Seattle with his wife and three daughters.
Reviews
"In his gripping new examination of the last days of what was then the fastest cruise ship in the world, Larson brings the past stingingly alive. . . . He draws upon telegrams, war logs, love letters, and survivor depositions to provide the intriguing details, things I didn't know I wanted to know. . . . Thrilling, dramatic, and powerful."

NPR
"This enthralling and richly detailed account demonstrates that there was far more going on beneath the surface than is generally known. . . . Larson's account [of the Lusitania's sinking] is the most lucid and suspenseful yet written, and he finds genuine emotional power in the unlucky confluences of forces, 'large and achingly small,' that set the stage for the ship's agonizing final moments."

The Washington Post
"Both terrifying and enthralling. As the two vessels stumble upon each other, the story almost takes on the narrative pulse of Jaws—the sinking was impossible and inevitable at the same time. At no point do you root for the shark, but Larson's incredible detail pulls you under and never lets you go."

Entertainment Weekly