Skip content
Bookseller pick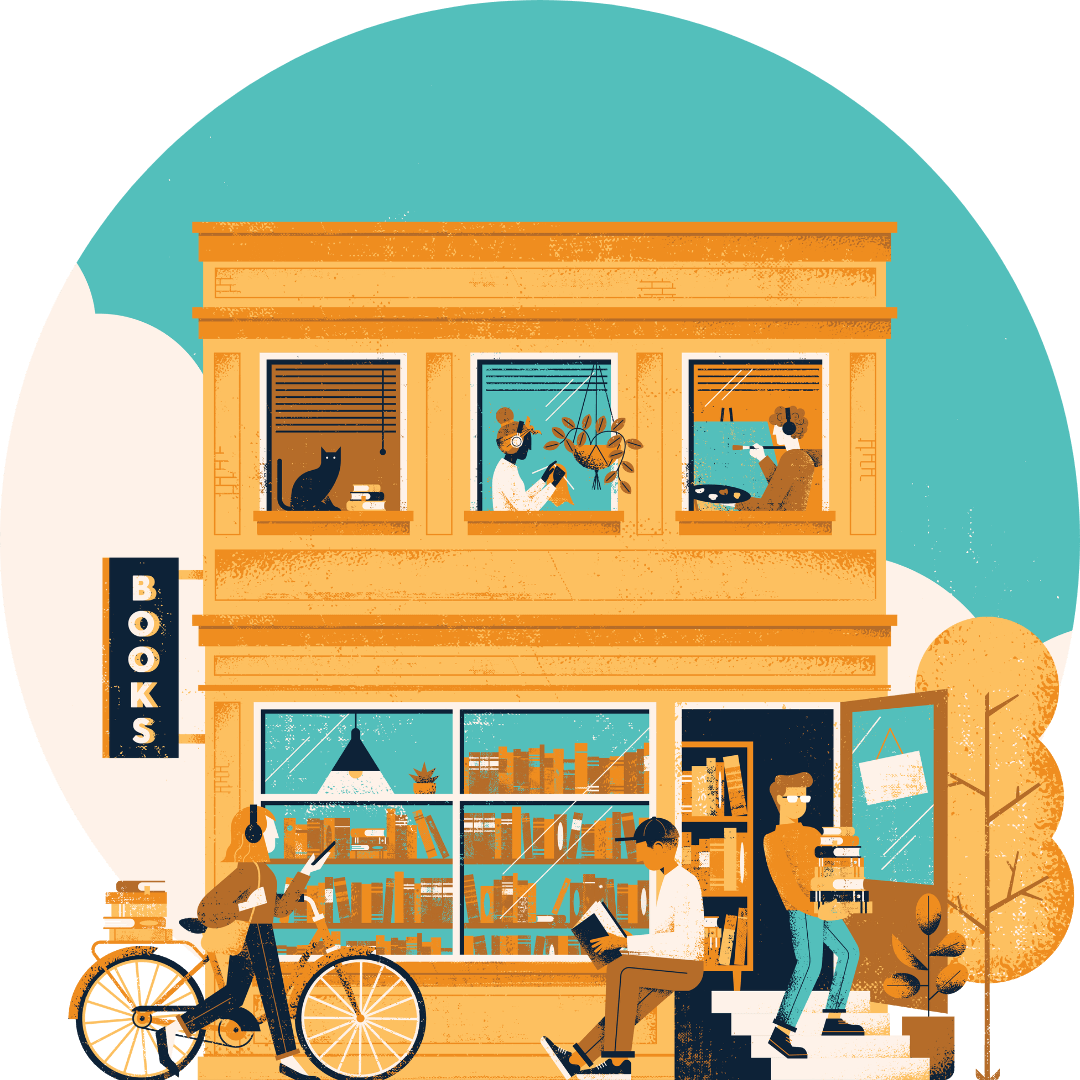 Gift audiobooks, support your bookstore!
With credit bundles, you choose the number of credits, your recipient picks their audiobooks, and your local bookstore is supported.
Start gifting
Modern Lovers
Length 9 hours 1 minute
Language English
Bookseller recommendation

"Set in trendy Brooklyn, Straub's latest novel follows the lives of former bandmates Zoe, Elizabeth, and Andrew and their teenage children, Ruby and Harry. When Ruby and Harry begin a relationship, their parents are forced to face and reveal long-buried tensions and secrets. Straub's spot-on depictions of middle-age suburban life and teenage angst are alternatively searing and hilarious. This book is the ultimate literary beach read!"

— Angela Spring

•

Politics & Prose
"It's 'Friends' meets 'Almost Famous' meets the beach read you'll be recommending all summer." –TheSkimm

From the author of the New York Times bestsellers All Adults Here and This Time Tomorrow, a smart, highly entertaining novel about a tight-knit group of friends from college— and what it means to finally grow up, well after adulthood has set in. 

Friends and former college bandmates Elizabeth and Andrew and Zoe have watched one another marry, buy real estate, and start businesses and families, all while trying to hold on to the identities of their youth. But nothing ages them like having to suddenly pass the torch (of sexuality, independence, and the ineffable alchemy of cool) to their own offspring.
Back in the band's heyday, Elizabeth put on a snarl over her Midwestern smile, Andrew let his unwashed hair grow past his chin, and Zoe was the lesbian all the straight women wanted to sleep with. Now nearing fifty, they all live within shouting distance in the same neighborhood deep in gentrified Brooklyn, and the trappings of the adult world seem to have arrived with ease. But the summer that their children reach maturity (and start sleeping together), the fabric of the adult lives suddenly begins to unravel, and the secrets and revelations that are finally let loose—about themselves, and about the famous fourth band member who soared and fell without them—can never be reclaimed.
Straub packs wisdom and insight and humor together in a satisfying book about neighbors and nosiness, ambition and pleasure, the excitement of youth, the shock of middle age, and the fact that our passions—be they food, or friendship, or music—never go away, they just evolve and grow along with us.
Reviews
"Reading this novel has all the pleasures of reading one of Anne Tyler's compelling family portraits — but transported from Baltimore to Brooklyn, peopled with aging hipsters (instead of perennially middle-aged folks) and doused with a Lorrie Moore-like sense of the absurdities of contemporary life." —Michiko Kakutani, The New York Times

"The humorous insight Straub brings to the page about how everyday lives are lived will make for immersive reading and rich conversation. . . Straub recounts her characters' yearnings with love and empathy, which makes the book's wit — and Modern Lovers is screamingly funny —glow with warmth." —USA Today  

"Straub serves up a perfect slice of the zeitgeist with this entertaining novel about former college bandmates raising their precocious children while grappling with marital tensions and midlife crises." —People

"[Modern Lovers] has the smart, cool sensibility of Straub's other novels, and you're sure to love this one just as much." —Elle

"Straub lets her characters fall apart and come together in their own messy, refreshingly human ways— always older, sometimes wiser, but never quite done coming of age." –Entertainment Weekly

"Summer in the city has never felt so good. . . Modern Lovers celebrates the updated look and feel of familial love and all of its complexities. Straub's clever and perceptive observations on growing up are gentle reminders that coming of age isn't just for kids." —The Washington Post

"With a real-estate agent, a chef, a yogi 'guru,' and teens sneaking off to do what teens do when teens sneak off— Straub's latest has something for everyone." —Marie Claire
 
"A lovely, satisfying early-summer read." –EW.com

"Thoughtful and hilarious, Modern Lovers proves growing up doesn't stop in adulthood." —Real Simple

"[Emma Straub] delights in this multi-generational tale." —Good Housekeeping

"Bestseller Emma Straub gives us an insightful look into middle age, parenthood, and the funny way that passions never fade, no matter how much time passes by." –Harper's Bazaar

"Straub has a gift for exposing larger truths through small, telling details. Her warmth and sense of humor electrify every page." –New York Magazine, Vulture

"Really entertaining. The characters are complex and likeable… one of those stories that makes you realise that life really does run away from you." –The Guardian (UK)

"Straub has a knack for keeping relationship drama amusing." –The Boston Globe

"[Straub has a] gentle way of producing meaning, allowing characters' trains of thought to run freely until they end up exposing a truth at once personally significant and broadly aphoristic. The deepening feels so natural you hardly notice it happening, and then you wonder how you arrived at such an inward-facing, luminous place." –Slate

"Modern Lovers examines love as both a fictionalized form of entertainment and very real component of the human condition. It pains us, excites us, frustrates and compels us to do stupid and extraordinary things — and yet we seem ever-willing to come back for more." –Salon 

"A hilarious and heartfelt look at love and friendship, Modern Lovers is this summer's page-turning must-read." –Mashable

"Beach-ready." —Flavorwire
 
"[Modern Lovers] is a treat. . . a fabulous coming-of-age novel about women entering into a new era of their lives." —Refinery29

"In Modern Lovers, Straub's new intertwined families are stuck in Ditmas Park, Brooklyn, for the summer, but there are plenty of fireworks — including a teen romance and a potential movie about the friends' punk-rock past." –Newsday 

"A life-long friend group much like the Friends gang are now in their fifties, and their kids are becoming adults. Much like Monica, Rachel, Joey, Chandler, Ross, and Phoebe, the characters are all neighbors with each other, this time in Brooklyn. As they grapple with their new place in life, you'll be drawn completely in by their stories and struggles." —Bustle

"[Booksellers] are high on this Big Chill-for-Gen X story from the author of The Vacationers." –Hollywood Reporter

"A smart, thoughtful novel about growing up and getting older." —PopSugar

"A gentle and quirky story about growing up and letting go, Modern Lovers is the perfect summer read: It's breezy yet relatable and wildly entertaining." –PureWow

"Modern Lovers takes place in a Brooklyn so brilliantly true to real life, it's hard to ignore. A summer read of the highest order."  —HelloGiggles

"Sweet, charming, funny and gut-wrenching." —The Fort Worth Star-Telegram

"[Straub] sets her observational wit on three middle-aged friends (former college bandmates) who find themselves in a crisis of identity as their now-grown children head off to college themselves." —Huffington Post
 
"What happens when you age out of your cool? It's a topic that filmmaker Noah Baumbach has explored, and Straub is his literary counterpart. . .  With the multigenerational structure, it would be easy to compare Straub to other masters of the genre like Meg Wolitzer or Jennifer Egan, but she's already a master in her own right after The Vacationers, so Modern Lovers should prove to be a witty romp." —The Millions

"An enthralling page-turner with conflicts and mysteries that will keep readers riveted." —Bust

"This is a coming of age story for the parents and children alike, each of who grows up during the course of the novel. . . Straub treats her characters with a rare good humor and affection, which is what makes Modern Lovers such an entertaining, yet affecting, story." —The Examiner

"Straub has such a funny, perceptive writing style, you feel like you're close friends with them all." —Cup of Jo

"Wise and often hilarious, Modern Lovers is a testament to how the passions and secrets of our youth can last well into adulthood." —Buzzfeed




Expand reviews
Start gifting