Skip content
Bookseller Pick
Credit bundles
Gift audiobooks to anyone in the world from the comfort of your home. You choose the number of credits, your gift recipient picks their own audiobooks, and your local bookstore is supported by your purchase.
Start gifting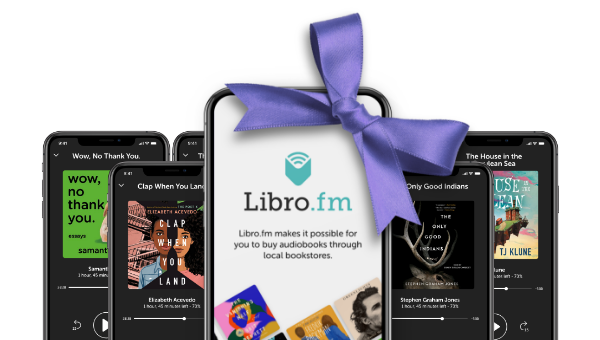 Length 15 hours 29 minutes
Language English
Bookseller recommendation

"Imagine a world in which the wealthy learn not just from the work of naturalists and thinkers, but from their lives, and not just in memoir form, but as a complete, immediate experience of everything each author remembers. Imagine that, to create such books, the authors must give up those memories. Imagine that you are the child of good, honest country folk who have heard of people left gibbering and helpless if their stories are taken by less than perfect... binders. The very word gives your father chills. Not merely because of the rumors of minds lost: because out on the marsh, an old woman on the wrong side of religion will, if asked, remove memories, taking something from a struggling heart and stitching it between hard covers to be buried forever, lest damage to the book set the memories loose to overwhelm that heart again. You might never have imagined how glibly a person might wish to forget a summer fling. You might not know what it does to a family if a child willfully forgets her parent. You might lack the imagination for the cruelties forgetfulness can allow. But if you are a binder born, unable to bear a normal life because of a powerful empathy in you that gives you the power to remove thoughts from another person and place them in a book - if you are taken as an apprentice to a binder in a place where the trade is regarded with suspicion - if you are forced away to the city and into the employ of an unscrupulous binder who, against law and moral reason, sells the books of living people for readers' amusement - you can't bear to believe these people exist - but you must. Because one of them owns what you gave up to protect people, and another owns the freedom and happiness of one you wanted to protect. For everyone left longing for more at the end of Diane Setterfield's latest, anyone impatient between Geraldine Brooks' releases, anyone afraid you'll never fall in love again as hard as you fell in A. S. Byatt's "Possession" or Saramago's "History of the Siege of Lisbon", give Bridget Collins your hand and the richly talented Carl Prekopp your ear. "The Binding" is magical."

Nialle,

The Haunted Bookshop
Bookseller recommendation

"An absolutely gorgeous novel! Collins writes Emmett in such a way that readers will experience his confusion and frustration and then have it unknotted simultaneously as his tale unfolds. The three parts of the novel are brilliantly ordered to deliver a powerful tale that will tear your heart to pieces slowly and, in one spectacular scene, mend it completely with hope and love. Do Binders provide healing and comfort, or are they wicked magicians determined to leave you empty? What are you willing to risk for someone you love?"

Angela Shores,

Adventure Bound Books
Bookseller recommendation

"The Binding first takes you on a fantastic journey to an old woman's cottage that teaches the art of book-binding; then becomes a very personal story to the apprentice book-binder Emmett Farmer. This is a story that is rooted around memories, the people that wish to use them for profit, and the individuals that feel better left to not remembering them. The narration of this story is exactly what this book needed. I never wanted it to end."

Nichole,

The Yankee Bookshop
Proclaimed as "truly spellbinding," a "great fable" that "functions as transporting romance" by the Guardian, the runaway #1 international bestseller arrives in America.
"A rich, gothic entertainment that explores what books have trapped inside them and reminds us of the power of storytelling. Spellbinding." — TRACY CHEVALIER
Imagine you could erase grief.
Imagine you could remove pain.
Imagine you could hide the darkest, most horrifying secret.
Forever.
Young Emmett Farmer is working in the fields when a strange letter arrives summoning him away from his family. He is to begin an apprenticeship as a Bookbinder—a vocation that arouses fear, superstition, and prejudice amongst their small community, but one neither he nor his parents can afford to refuse.
For as long as he can recall, Emmett has been drawn to books, even though they are strictly forbidden. Bookbinding is a sacred calling, Seredith informs her new apprentice, and he is a binder born. Under the old woman's watchful eye, Emmett learns to hand-craft the elegant leather-bound volumes. Within each one they will capture something unique and extraordinary: a memory. If there's something you want to forget, a binder can help. If there's something you need to erase, they can assist. Within the pages of the books they create, secrets are concealed and the past is locked away. In a vault under his mentor's workshop rows upon rows of books are meticulously stored.
But while Seredith is an artisan, there are others of their kind, avaricious and amoral tradesman who use their talents for dark ends—and just as Emmett begins to settle into his new circumstances, he makes an astonishing discovery: one of the books has his name on it. Soon, everything he thought he understood about his life will be dramatically rewritten.
An unforgettable novel of enchantment, mystery, memory, and forbidden love, The Binding is a beautiful homage to the allure and life-changing power of books—and a reminder to us all that knowledge can be its own kind of magic.