Libro.fm Bookstore Champion
Sean Doolittle
We're proud to feature MLB pitcher and bookstore fan Sean Doolittle as a Libro.fm Bookstore Champion! When he couldn't find a local bookstore near his team's facility, he decided to support independent bookstores by visiting at least one in each city his team visits this season. He chronicles his bookstore adventures on twitter, sharing them with his 97,000 followers. Sean Doolittle is using his platform as an all-star athlete to bring awareness and attention to the value of independent bookstores.
"I want to support local businesses. I want to support these places that are active in their communities, that are trying to be supportive and inclusive spaces for their communities... These places like Amazon, they might sometimes be a little bit more convenient. They might be a little bit cheaper. But they're not furthering anything as far as authors' careers or supporting their workers in the same way."

Sean Doolittle, Professional Baseball Player
The All-Star Closer Who Is Trying to Save Bookstores
Washington Nationals closer Sean Doolittle found himself mired in an unusual predicament for a professional baseball player during spring training: He needed more books to satisfy his enormous appetite for reading—and he couldn't find a local bookstore near the team's facility in West Palm Beach, Fla., as good as the shops near his winter home in Chicago.
By Jared Diamond • The Wall Street Journal
Read the Article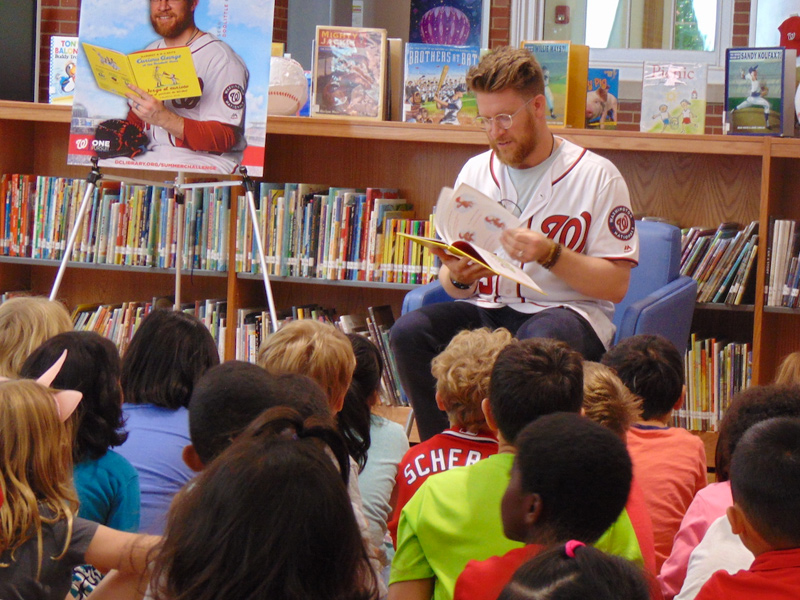 Nationals Pitcher Sean Doolittle Talks Summer Reading with Local Students
Washington Nationals closer Sean Doolittle, a fan favorite, pitched the merits of robust summer reading to dozens of first-graders at a DC Public Library kickoff event Tuesday at Murch Elementary School, where students gathered in the library to hear him talk about books and baseball.
By Will Lennon • The DC Line
Read the Article
Libro.fm Bookstore Champions
The Bookstore Champions award recognizes individuals who actively advocate for local bookstores through their platforms, influence, and contributions.
See All Bookstore Champions
Get Updates from Libro.fm
Sign up for audiobook recommendations and 20% off your first purchase.