With or Without You
Narrated by Julia Whelan /
9 hours 5 minutes
New York Times bestselling author Caroline Leavitt writes novels that expertly explore the struggles and conflicts that people face in their search for happiness.
For the characters in With or Without You, it seems at first that such happiness can come only at someone else's expense. Stella is a nurse who has long suppressed her own needs and desires to nurture the dreams of her partner, Simon, the bass player for a rock band that has started to lose its edge. But when Stella gets unexpectedly ill and falls into a coma just as Simon is preparing to fly with his band to Los Angeles for a gig that could revive his career, Simon must learn the meaning of sacrifice, while Stella's best friend, Libby, a doctor who treats Stella, must also make a difficult choice as the coma wears on.

When Stella at last awakes from her two-month sleep, she emerges into a striking new reality where Simon and Libby have formed an intense bond, and where she discovers that she has acquired a startling artistic talent of her own: the ability to draw portraits of people in which she captures their innermost feelings and desires. Stella's whole identity, but also her role in her relationships, has been scrambled, and she has the chance to form a new life, one she hadn't even realized she wanted.

A story of love, loyalty, loss, and resilience, With or Without You is a page-turner that asks the question, What do we owe the other people in our lives, and when does the cost become too great?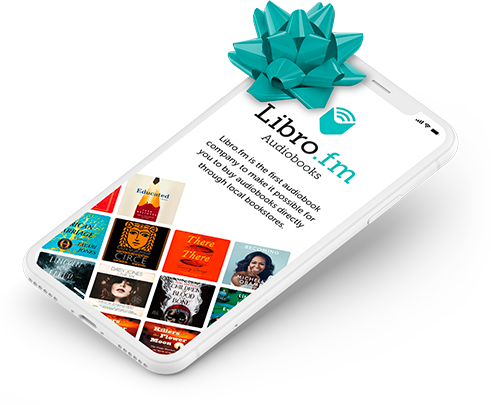 Gift audiobook memberships
You pick the duration—1, 3, 6, or 12 months—they pick the audiobooks. Buying gifts from your local bookstore has never been so easy.
Start gifting
"With or Without You is a moving novel about twists of fate, the shifting terrain of love, and coming into your own. With tenderness and incisive insight, Leavitt spotlights a woman's unexpected journey towards her art."

Madeline Miller, author of Circe
"Caroline Leavitt's new novel With or Without You seduced me instantly and held my heart from the first page to the last. Like Elena Ferrante's raw and intimate explorations into human relationships, this novel will make you laugh, cry, yell, and possibly more. At the heart of the story is the art of a woman's life, pulsing with beauty, desire, loss, never-ending change, and the grit it takes to keep going."

Lidia Yuknavitch, bestselling author of The Book of Joan
"It was if I were falling in love: flushed, fascinated, filled with hope, fear and joy. Leavitt's exploration of the many ways in which we change over the course of a lifetime—and how we keep or lose those we love throughout these mutations—is compassionate, profound and moving. Beyond being utterly captivated, I felt like I had grown wiser and more humane after reading this beautiful novel."

Jean Kwok, New York Times bestselling author of Girl in Translation
---
About the Author
Caroline Leavitt is the award-winning author of twelve novels, including the New York Times bestsellers Pictures of You and Is This Tomorrow. Her essays and stories have been included in New York magazine, Psychology Today, More, Parenting, Redbook, and Salon. She's a book critic for People, the Boston Globe, and the San Francisco Chronicle, and she teaches writing online at Stanford and UCLA.
---
Reviews
"What if Snow White woke up and decided she didn't much like Prince Charming? Something like that happens in Leavitt's latest novel . . . One character's coma is only the first surprise in this satisfying story of middle-aged love."

Kirkus Reviews, starred review
"Leavitt's seamless writing easily carries readers through the compelling story . . . Leavitt's fans and readers of domestic drama will be thrilled."

Booklist
---