Gift any 3, 6, or 12 month audiobook membership and get
Circe
for Free!
Learn More
A Night to Remember
The Classic Account of the Final Hours of the Titanic
Narrated by Richard Davidson /
5 hours 46 minutes
She was called "the ship that God himself couldn't sink," yet on her maiden voyage, the ship Titanic brushed an iceberg and sank less than three hours later, carrying 1,503 men, women, and children to their death. In this dramatic and historic recreation of the bravery and agony that marked that fateful night, author and historian Walter Lord paints a portrait of the last hours of the Titanic's first and final voyage.
---
Titanic Chronicles Series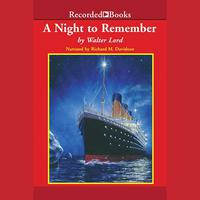 By: Walter Lord
Narrated by: Richard Davidson
Length: 5 hours 46 minutes
Abridged: No
She was called "the ship that God himself couldn't sink," yet on her maiden voyage, the ship Titanic brushed an iceberg and sank less than three hours later, carrying 1,503 men, women, and children to their death. In this dramatic and historic recreation of the bravery and agony that marked that fateful night, author and historian Walter Lord... Read More »