Celebrate Audiobook Month!
It's the perfect time to listen while enjoying summer activities.
Learn More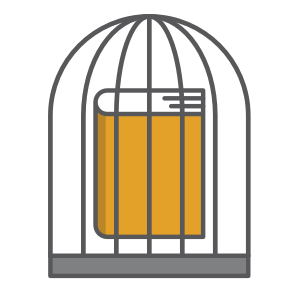 Sorry, the publisher has caged this audiobook!
Caging audiobooks is not consistent with our indie values. Libro.fm is one of the few places where every audiobook is DRM-free (DRM means Digital Rights Management), which we like to call cage-free. Cage-free fits our fiercely independent nature and it means you can listen to our audiobooks anytime, anywhere, on any device with no restrictions.
Love that we are cage-free? Spread the word and #chooseindie
From the celebrated author of The English Patient and In the Skin of a Lion comes a remarkable new novel of intersecting lives that ranges across continents and time.

In the 1970s in Northern California, near Gold Rush country, a father and his teenage daughters, Anna and Claire, work their farm with the help of Coop, an enigmatic young man who makes his home with them. Theirs is a makeshift family, until it is riven by an incident of violence—of both hand and heart—that sets fire to the rest of their lives.

Divisadero takes us from the city of San Francisco to the raucous backrooms of Nevada's casinos and eventually to the landscape of south-central France. It is here, outside a small rural village, that Anna becomes immersed in the life and the world of a writer from an earlier time—Lucien Segura. His compelling story, which has its beginnings at the turn of the century, circles around "the raw truth" of Anna's own life, the one she's left behind but can never truly leave. And as the narrative moves back and forth in time and place, we discover each of the characters managing to find some foothold in a present rough hewn from the past.

Breathtakingly evoked and with unforgettable characters, Divisadero is a multilayered novel about passion, loss, and the unshakable past, about the often discordant demands of family, love, and memory. It is Michael Ondaatje's most intimate and beautiful novel to date.
---