Skip content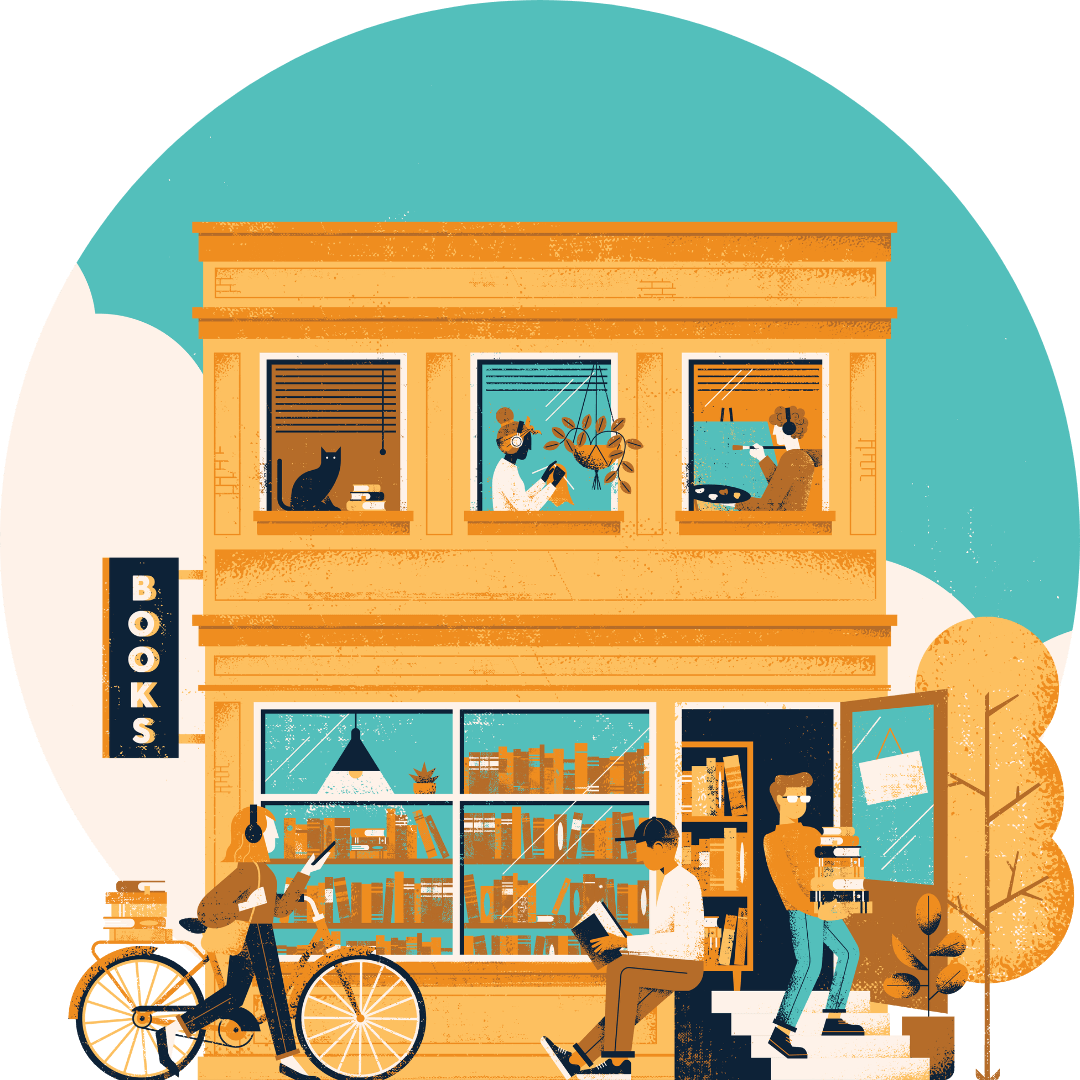 Gift audiobooks, support your bookstore!
With credit bundles, you choose the number of credits, your recipient picks their audiobooks, and your local bookstore is supported.
Start gifting
Whole Earth
The Many Lives of Stewart Brand
Length 13 hours 13 minutes
Language English
Told by one of our greatest chroniclers of technology and society, the definitive biography of iconic serial visionary Stewart Brand, from the Merry Pranksters and the generation-defining Whole Earth Catalog to the marriage of environmental consciousness and hacker capitalism and the rise of a new planetary culture—the story behind so many other stories

Stewart Brand has long been famous if you know who he is, but for many people outside the counterculture, early computing, or the environmental movement, he is perhaps best known for his famous mantra "Stay Hungry. Stay Foolish." Steve Jobs's endorsement of these words as his code to live by is fitting; Brand has played many roles, but one of the most important is as a model for how to live.
 
The contradictions are striking: A blond-haired WASP with a modest family inheritance, Brand went to Exeter and Stanford and was an army veteran, but in California in the 1960s he became an artist and a photographer in the thick of the LSD revolution. While tripping on acid on the roof of his building, he envisioned how valuable it would be for humans to see a photograph of the planet they shared from space, an image that in the end landed on the cover of his Whole Earth Catalog, the defining publication of the counterculture. He married a Native American woman and was committed to protecting indigenous culture, which connected to a broader environmentalist mission that has been a through line of his life. At the same time, he has outraged purists because of his pragmatic embrace of useful technologies, including nuclear power, in the fight against climate change. The famous tagline promise of his catalog was "Access to Tools"; with rare exceptions he rejected politics for a focus on direct power. It was no wonder, then, that he was early to the promise of the computer revolution and helped define it for the wider world.
 
Brand's life can be hard to fit onto one screen. John Markoff, also a great chronicler of tech culture, has done something extraordinary in unfolding the rich, twisting story of Brand's life against its proper landscape. As Markoff makes marvelously clear, the streams of individualism, respect for science, environmentalism, and Eastern and indigenous thought that flow through Brand's entire life form a powerful gestalt, a California state of mind that has a hegemonic power to this day. His way of thinking embraces a true planetary consciousness that may be the best hope we humans collectively have.
 
Reviews
One of The New Yorker's Best Books of 2022
"This biography of Stewart Brand, the creator of the 'Whole Earth Catalog,' explores the varied career of a 'quixotic intellectual troubadour.' . . . What emerges is a view of an insistently holistic thinker unafraid to pursue idiosyncratic ideas and possessing 'an uncanny sixth sense for being in the right place at the right time.'"
—The New Yorker
"An illuminating biography that captures Mr. Brand's rich and varied life . . . It is a challenge to capture the essence of a protean life while the subject is still writing the script, but Mr. Markoff, a longtime tech journalist for the
New York Times
, has done it beautifully."
—Wall Street Journal
"Stewart Brand was, and remains, actively and undeniably
present
. . . participating in and shaping events and organizations that coalesce around him. From the first Grateful Dead shows to 21st-century TED Talks, Brand is there . . . Markoff's biography will likely be the last word on Brand for some time." —
Los Angeles Review of Books
"
Whole Earth
has a level of authoritative detail that's a testament to Markoff's profound understanding of Silicon Valley from covering it since 1977. . . . Brand's story offers revealing glimpses into the process of innovation, creation, and cultural change through the narrative of a life at the frontier of many of the social, technological, and business movements of the last 60 years." —
Charter
"Markoff gives readers a well-researched account of Brand's life, from his early start in 1960s counterculture, to founding the famous Whole Earth Catalog, to his influence on Steve Jobs. . . . It's an insightful account of the Zelig-like figure."
—Library Journal
"A sturdy, readable study of a fellow who's had considerable press devoted to him—but who can still surprise."
—Kirkus
"Markoff's telling of Brand's strange and busy life is compelling—the book version of opening a time capsule filled with unexpected and one-of-a-kind items."
—Booklist
"A fascinating account of one of the most intriguing and enigmatic figures in modern American environmental history.  It is impossible to understand the complicated and fiercely contested evolutions of environmentalism without understanding the life and work of Stewart Brand and his
Whole Earth
eco-pragmatism. John Markoff provides the first complete biography of Brand and his remarkable many lives. An important contribution to recent reevaluations of the counterculture and the lasting impact of leading figures like Brand on American history, economy, environment, and culture."
—Andrew Kirk, author of Counterculture Green: The Whole Earth Catalog and American Environmentalism
"Stewart Brand would have been Stewart Brand without the 1960s, but the 1960s would not have been the 1960s without Stewart Brand. I read this entire book in one sitting—it's like finding your parents' diary, and finally learning, OK, so
that's
what happened. Lots of missing pieces fell into place."
—George Dyson, author of Turing's Cathedral
"For a hint of where the world is headed, watch Stewart Brand, who has been leading the edge of the last ten frontiers. As this fast-paced biography demonstrates, wherever Stewart Brand heads, the rest of us will follow. His well-told life is an inspiration to anyone who wants to shape the whole planet."
—Kevin Kelly, Senior Maverick, Wired
"Always years ahead of the rest of us, Stewart Brand seeded the DIY movement, re-imagined our buildings, catalyzed the environmental movement, and brought a bright idealism to technological possibility. Biographer John Markoff, who was granted access to never-before-seen materials and conducted extensive interviews with Brand, gives us a singular portrait of a singular individual whose ideas and actions have shaped our world in more ways than we know."
—Leslie Berlin, author of Troublemakers
"To understand Silicon Valley, you need to understand Stewart Brand. Here John Markoff delivers the definitive biography of Brand's extraordinary life, from sleepy 1950s Stanford to the Summer of Love, the birth of personal computing, and the great disruptions of the online age. A deeply reported, engrossing tale of an American idealist and a society remade by belief in the transformative, liberating power of digital technology." —
Margaret O'Mara, Author of The Code
"As it became obvious that one human being has had a stupendously outsized influence on ecology, technology and culture, the question arose: 'Why haven't we seen a picture of the whole Stewart Brand?' Now we have one
—
John Markoff's superbly researched, lucidly written, and perceptively nuanced portrait of this extraordinary earthling."
—Steven Levy, author of Hackers: Heroes of the Computer Revolution
"Stewart Brand has been a puckish troubadour who sparked seminal social movements in each of the past six decades. In this deeply reported and exciting book, the great tech chronicler John Markoff captures Brand's brilliance as a serial visionary. The result is a delightful guide to the techno-optimism, environmental consciousness, and hacker capitalism that drives our world today."
—Walter Isaacson, author of Steve Jobs
Expand reviews
Start gifting