Skip content
Shop early and gift big! Every purchase supports A Great Good Place for Books.
Make a difference
Bookseller pick
"A delightful and fun story about two sisters, a family feud, and how a reality TV show forces everybody's hand. This is the perfect book to keep you company as you do household chores, exercise, or running errands, because it will make the time fly."

Mary, Skylark Bookshop
Bookseller pick
"I don't know why I want to describe a dysfunctional family story about sister rivalry and restaurant feuds as charming, but I do. Lives and family are messy. You can try to make them appear perfect and organized for public consumption, but once you relinquish the spotlight and storytelling to someone else, it is impossible to keep the dirty bits hidden. One of the dominant themes is emphasizing the hidden pitfalls and costs that come with being an influencer and public figure as you strive to turn your life into a desirable brand. It also gives you a delicious peek at what it might be like to participate in a reality television show with the filming of a fictional restaurant wars television show. It is a sharp reminder that perceptions are rarely reality when others have the ability to manipulate and shape the story. It also explores the stress and unexpected pleasures of returning home to a small town alongside facing the past traumas and experiences that shape who we become as adults. Does attention, fame and money always come at great cost? Are there second chances and opportunities for reconciliation after betrayal? Is maintaining tradition or making changes better? I guess you will have to read or listen to find out. As an audiobook, I found this had great pacing with dual narration alternating between the two sisters. They were both flawed but likeable characters that I wanted to face their realities while also cheering them on in pursuing their dreams and finding their purpose."

Cori, Bright Side Bookshop
Bookseller pick
"I am charmed by The Chicken Sisters! Family fights, fried chicken, a dog and her puppies, mental illness, a shaky marriage, a potential romance, and a reality show taping all combine for a great small-town story. Generations of feuding sisters with competing chicken shack restaurants hash it out for the cameras, their loved ones, and themselves. The Chicken Sisters is a delightful read."

Susan Williams, M. Judson Booksellers & Storytellers
---
Description
INSTANT NEW YORK TIMES BESTSELLER

A REESE'S BOOK CLUB PICK

"A charming, hilarious, feel-good story about the kind of bonds & rivalries only sisters can share. Also, a great present for your sister for the holidays!!"--Reese Witherspoon

Three generations. Two chicken shacks. One recipe for disaster.

In tiny Merinac, Kansas, Chicken Mimi's and Chicken Frannie's have spent a century vying to serve up the best fried chicken in the state--and the legendary feud between their respective owners, the Moores and the Pogociellos, has lasted just as long. No one feels the impact more than thirty-five-year-old widow Amanda Moore, who grew up working for her mom at Mimi's before scandalously marrying Frank Pogociello and changing sides to work at Frannie's. Tired of being caught in the middle, Amanda sends an SOS to Food Wars, the reality TV restaurant competition that promises $100,000 to the winner. But in doing so, she launches both families out of the frying pan and directly into the fire. . .

The last thing Brooklyn-based organizational guru Mae Moore, Amanda's sister, wants is to go home to Kansas. But when her career implodes, helping the fading Mimi's look good on Food Wars becomes Mae's best chance to reclaim the limelight--even if doing so pits her against Amanda and Frannie's. Yet when family secrets become public knowledge, the sisters must choose: Will they fight with each other, or for their heritage?
---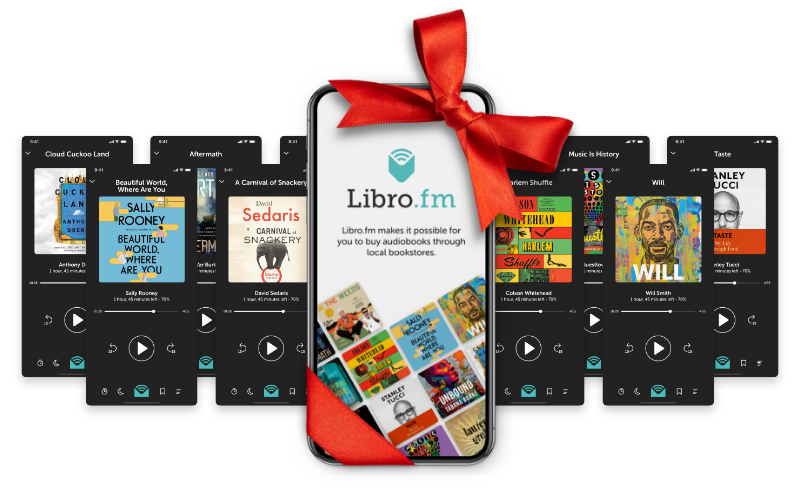 Shop early and gift big!
Gift an audiobook membership to anyone in the world and support A Great Good Place for Books at the same time.
Start gifting
---