Gift any 3, 6, or 12 month audiobook membership and get
Circe
for Free!
Learn More
Dragons vs. Unicorns
Dragons vs. Unicorns
Science explosions! Theater! Mystery! Friendship! Fifth grader Kate the Chemist uses STEM knowledge to do incredible things!

Kate the Chemist is her neighborhood's ten-year-old science problem solver. There's no problem Kate can't fix! When her best friend Birdie is cast as the lead unicorn in their school musical Dragons vs. Unicorns, and Kate is chosen to be the assistant director, they agree this is going to be the best musical EVER! Kate is a natural assistant director; like all good scientists, she's smart and organized, but she also comes up with great ideas, like making liquid nitrogen Cheetos so the Dragons can look like they're breathing fire! But when everything starts going wrong with the musical and Kate realizes someone is sabotaging the show, she will have to use her special science sleuthing skills to find a solution.

Help young Kate the Chemist as she solves science problems in her community, starting with the school musical: Dragons vs. Unicorns!
---
Kate the Chemist Series
Coming
Soon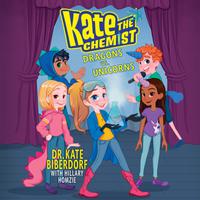 Science explosions! Theater! Mystery! Friendship! Fifth grader Kate the Chemist uses STEM knowledge to do incredible things!

Kate the Chemist is her neighborhood's ten-year-old science problem solver. There's no problem Kate can't fix! When her best friend Birdie is cast as the lead unicorn in their school musical Dragons vs. Unicorns, and Kate... Read More »